Vitalograph Bacterial Viral Filters
PFT Filters
$1.38
Single-use filters for 99.999% filtration of bacteria, viruses and expectorated matter. Suitable for inspiratory and expiratory spirometry testing.
Works with Vitalograph, MIR and CareFusion/Micro Medical spirometers without the need for an adapter. Works with most office spirometers with a reusable adapter (adapter sold separately).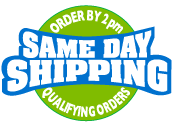 Quantity Price Breaks
0-49: $1.38 ea.
50-99: $1.32 ea.
100-199: $1.28 ea.
200+: $1.24 ea.